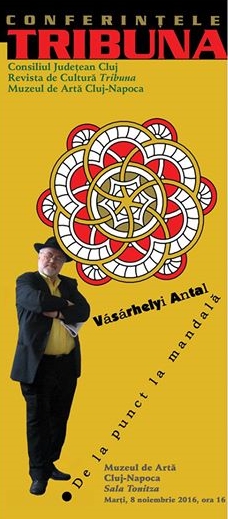 Muzeul de Artă Cluj-Napoca, în parteneriat cu Revista de cultură Tribuna, vă invită marţi, 8 noiembrie 2016, ora 16, la conferinţa cu titlul: DE LA PUNCT LA MANDALĂ, susţinută de artistul plastic Vasarhelyi Antal din Ungaria.
Originar din Satu-Mare, Vasarhelyi Antal (n. 1950) a studiat grafica şi arhitectura la Bucureşti intre 1969-1973.
În 1979 se stabileşte definitiv în Ungaria. Între 1982-1989, cu scurte intreruperi, este liderul Clubului Tinerilor Artişti organizând numeroase expoziţii naţionale şi internaţionale. Din 1989, timp de un deceniu, îşi desfăşoară activitatea creatoare la Nurenberg.
Între 2000-2014 este preşedintele Asociaţiei Gravorilor şi Litografilor Maghiari şi conducătorul Galeriei IX, unde organizează peste 150 de expoziţii. Este organizatorul unor expoziţii tematice: Omagiu lui M. C. Escher (1998), Ştiinţa în artă - Arta în ştiinţă (1998). A efectuat călătorii de studiu în Finlanda (1983), Franţa (1984), Japonia (1999), România (2007), Italia (2008), Danemarca (2009), Islanda, Malta (2010). Are prelegeri la The International Academy of Media Arts and Sciences lamas, Gifu, Japonia (1999) şi la Universitatea de Artă din Budapesta (2007).
A avut expoziţii personale în Ungaria, Austria, Franţa, Germania, Suedia, Finlanda, Israel, România. Are lucrări în numeroase colecţii particulate şi publice din care amintim: Muzeul de Literatură şi Universitatea de Artă din Budapesta, Public Library din New York, Biblioteca Naţională din Franţa etc.
sursa: comunicat de presă Tribuna